The OCEAN Celtic Quartet play music packed with pure pan-Celtic pizzazz, putting their unique spin on traditional songs and Cutting's original compositions, from soaring ballads and stirring sea chanteys to blazing fiddle and accordion tunes. The group has won over 25 Washington Area Music Awards, a #3 spot on the national Folk DJ Charts, and a triumphant appearance on NPR's "Mountain Stage." They have a history of sold-out concerts at such venues as The Birchmere and The Kennedy Center.
Fairport Convention's Simon Nicol says they "get right inside the spirit of the folk music of the British Isles," Steeleye Span's Maddy Prior calls their songwriting "stunning," and the Washington Post calls them "Nothing short of spellbinding."
The OCEAN Celtic Quartet is led by composer and ethnomusicologist JENNIFER CUTTING (accordion and keyboards), a Washington Area Music Association "Musician of the Year" and "Songwriter of the Year." OCEAN features the stunning vocalist CHRISTINE NOYES (formerly of the maritime music group Crab Alley), folklorist/vocalist/percussionist STEPHEN WINICK, and U.S. National Scottish Fiddle champion SEÁN HEELY. OCEAN is known for getting audiences up on their feet to dance to their electrifying Jigs and Reels; and, in the next moment, raising goosebumps with their soaring vocals and otherworldly Celtic beauty. Add a penchant for deep research and scholarship, and a great sense of humor, and you have a band that will captivate all ages.
There's nothing else like it...OCEAN is Celtic Music for Ancient Moderns!
Newest Album: The Turning Year: Pandemic Sessions Unplugged
NEWS FLASH
The Turning Year Tops the Charts!
The title cut of OCEAN's new CD "The Turning Year" was #1 Song on the Folk Radio charts for December!

"The Birth of Robin Hood" and "Planxty Drew/Planxty Wilkinson/Wreath the Bowl" also made the Top 20.

The CD came in at #3 overall--but who begrudges coming after Robert Plant and Alison Krauss?
Jennifer in The Living Tradition
Jennifer and OCEAN are featured in the UK magazine The Living Tradition, Issue 125
Get your copy at the link on the picture!
OCEAN on Mountain Stage!
Ocean Orchestra appeared on NPR's Mountain Stage on October 28, 2014.  To hear our appearance on the show, visit our Mountain Stage Page!
OCEAN has once again been selected by the Maryland State Arts Council to be on their official MARYLAND TOURING ARTISTS ROSTER!  That means, if you're a qualifying 501c3 non-profit organization in Maryland, you can apply for grant money to assist with expenses in presenting OCEAN!  More info at www.msac.org 
You can now enjoy learning and playing Jennifer's songs yourself, by visiting the new Sheet Music Store on this website. It includes the lead sheets for oft-requested Cutting originals such as "Green Man," "Steady As You Go," "Song of Solstice," and "Light the Winter's Dark."  More titles will be added in the days to come!  To purchase, just click on the "BUY SHEET MUSIC" link above.
Celtic Music for Ancient Moderns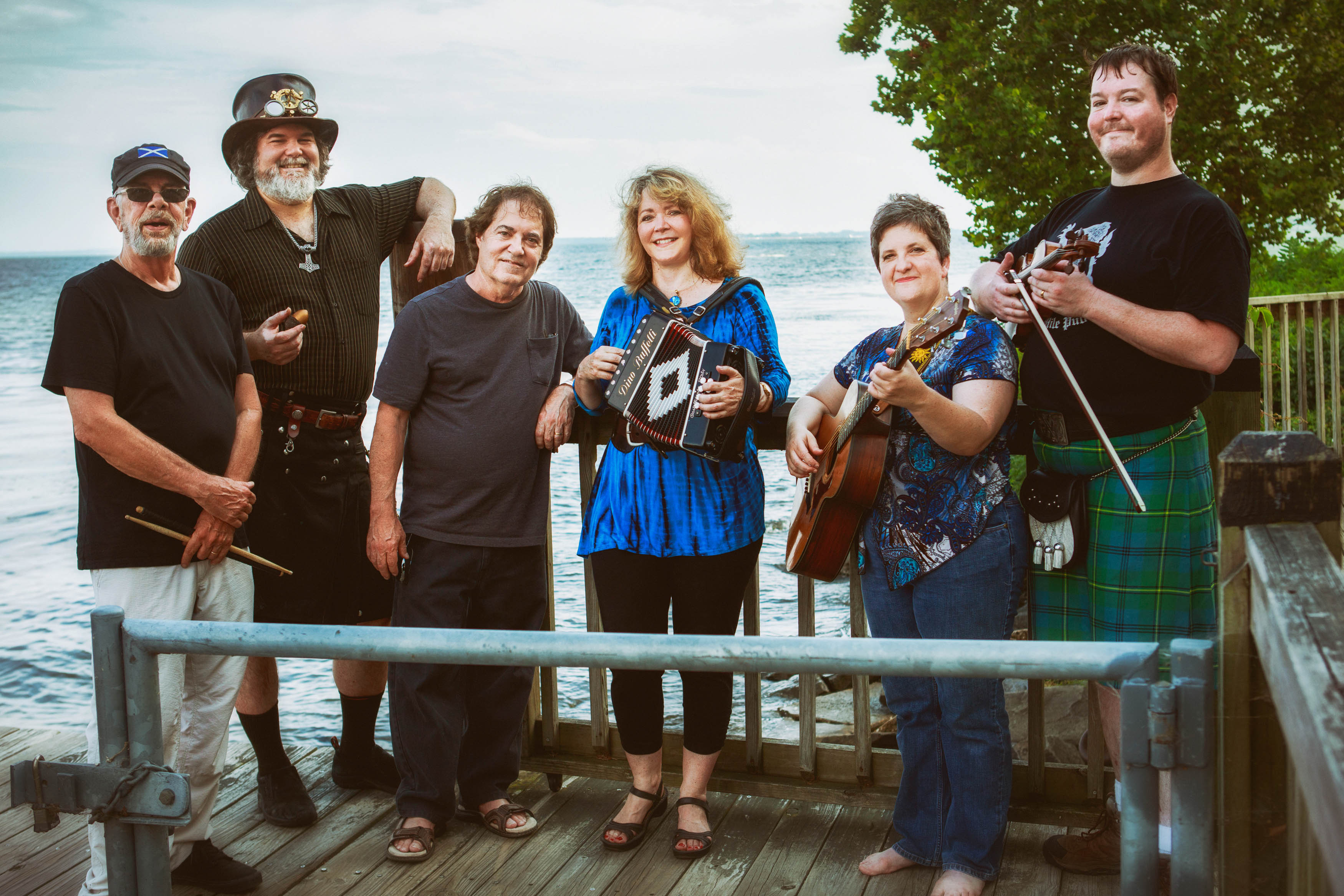 OCEAN is the one of the East Coast's premiere Celtic fusion bands, with a live show the Washington Post calls "nothing short of spellbinding," over 20 Washington Area Music Awards, and a history of sold-out concerts at such venues as The Birchmere and The Kennedy Center. Powered by the soaring vocals of Lisa Moscatiello and the creative genius of composer/arranger Jennifer Cutting, OCEAN is where ancient ballads meet cutting-edge electronics, where the Bagpipes meet the Beatles, and where fans of all generations and musical tastes can enjoy the same concert! Known for their electrifying stage presence, innovative arrangements, and the ability to move from ethereal to high-energy in a heartbeat, OCEAN is an All-Star band featuring some of the East Coast's most revered Celtic and pop musicians. They have graced North America's major festival stages, won over 20 Washington Area Music Awards including "Musician of the Year" and "Album of the Year," been featured in Billboard magazine, and made two critically acclaimed, internationally distributed CDs, the first of which received four stars in Britain's notoriously tough MOJO magazine.

OCEAN stands out among the Celtic throng for its combination of compelling originals and innovative arrangements of traditional songs and tunes. As a songwriter, Cutting is best known for her Celtic-tinged originals celebrating the turning of the seasons and human rites of passage. Artists of international stature, including Maddy Prior (Steeleye Span) and Annie Haslam (Renaissance) have recorded her songs. She was named "Songwriter of the Year" by the Washington Area Music Association, and has won prestigious national-level songwriting awards, such as First Prize at the Merle Watson Festival, and American Songwriter magazine's "Song of the Year." As an arranger, she pushes the boundaries of "Celtic," "Folk" and "Folk-Rock," creating exquisitely crafted arrangements with authentic traditional instruments, shimmering ethereal electronics, and a hard-hitting rhythm section.

Firmly grounded in the Celtic musical tradition, OCEAN can play Celtic tunes with the best bands in the genre...but they can also dazzle audiences with sizzling pop energy. Together and as members of other bands, they have played on the main stages of such prestigious festivals as The Philadelphia Folk Festival, The Winnipeg Folk Festival, The Mariposa Folk Festival, Fairport Convention's Cropredy Festival, and the Old Songs Festival. They have electrified audiences at exalted venues such as The Birchmere, Strathmore Music Center, and The Kennedy Center.

With its buoyant beats and soaring Celtic melodies, OCEAN provides an uplifting soundtrack for traveling hopefully on life's changing seas. Audiences can lose themselves in dreamy reverie, or cut loose and dance to the propulsive beat of electric jigs and reels. It's a marriage of otherworldly Celtic beauty and raw World-Beat energy. There's nothing else like it anywhere...it's Celtic Music for Ancient Moderns!

LINEUP: OCEAN comes in all sizes to fit all budgets. As an unplugged quartet, they are perfect for smaller, more intimate spaces such as folk clubs, churches, museums, and coffeehouses. As a six-to-eight-piece electric Big-band, they are great for festival main stages, outdoor concert series, and larger indoor venues. Either way, they provide an electrifying show. Depending on size, the lineup features Cutting on electronic keyboard and accordions; Moscatiello on vocals, whistle, and acoustic guitar; Andrew Dodds on fiddle; Zan McLeod on bouzouki, mandolin, and electric guitar; Tim Carey on Highland bagpipes; Steve Winick on vocals; Rico Petruccelli on electric bass; and Robbie Magruder on drums.

HISTORY: The band's journey began when Jennifer Cutting returned from several years in Britain, where she studied with the English folk-revival pioneer A.L. "Bert" Lloyd, who has inspired and mentored electric folk bands such as Fairport Convention, Steeleye Span, and 5 Hand Reel. During her time in England, she worked with and opened for members of these bands, and returned to the US determined to continue the tradition of Electric Folk that they began. Inspired by the subtle fire of Moving Hearts and the Bothy Band, the spine-tingling power of the Battlefield Band and Ossian, and the stately, majestic qualities of Pyewackett and Malicorne, she created her own electric folk bands, first The New St. George, and then The Ocean Orchestra. With OCEAN, Jennifer has reached the bar set by her heroes, applying the principles and techniques of electric folk to traditional and self-penned material alike. Her heroes have now passed the torch on to her; Maddy Prior (Steeleye Span), Dave Mattacks (Fairport Convention), Tony Cuffe (Ossian), and Gabriel Yacoub (Malicorne) have all guested on OCEAN albums.

When Cutting auditioned Moscatiello for the New St. George, a musical partnership that would last a lifetime was born. Moscatiello proved to be the perfect voice for Cutting's vision. A native of the Washington, D.C., area, and a veteran of its thriving Celtic music scene, Moscatiello has a voice that Billboard magazine has called "one of the most gorgeous instruments in all of folk-tinged pop."

OCEAN has three full-length CDs, OCEAN: Songs for the Night Sea Journey, which won five WAMMIE Awards including Album of the Year, Song of Solstice, which won the WAMMIE for Best Traditional Folk Recording and was named one of USA Today's Notable Holiday Releases of 2011, and WAVES, which was just released and named CD of the Week on the nationally syndicated radio show Midnight Special. All of them feature the magical chemistry of the original OCEAN lineup, along with guest appearances by world-renowned international stars, such as Maddy Prior (Steeleye Span), Annie Haslam (Renaissance), Tony Cuffe (Ossian), Dave Mattacks (Fairport Convention), Polly Bolton (Albion Band) and Gabriel Yacoub (Malicorne).